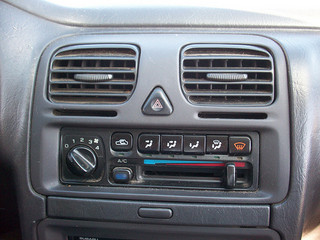 When the late Spring and Summer months come along and the days start warming up, there's nothing more annoying than turning on your car's air conditioning only to find that it's blowing out warm air. When this happens, it could be the result of a number of issues with your car's air conditioning, including a blocked or broken condenser, loose or worn belts, low refrigerant, and broken cooling fans. That's why you should bring your car to an auto repair shop that knows how to handle air conditioning and heating repair issues.
The technicians at Geller's Automotive know how to properly handle car air conditioning repair. If you're experiencing problems with your car's air conditioner, we first conduct an inspection to see if there are any loose or badly worn belts. We also, check the outlet temperature to determine how well the system is cooling. Finally, we conduct a pressure test on the system. Based on the results of the initial check, we may recommend additional diagnostics, like a dye injection leak test. We may also recommend evacuating and recharging your car's air conditioning system.
Let Geller's Automotive help you keep your cool in the warmer months with our air conditioning repair and maintenance services. Call us today to make an appointment.

Car Heater Repair – Keep Warm in the Winter
The heater in your car is actually part of the cooling system. Heat is produced during the engine's combustion process. It is then absorbed by the coolant in your car's radiator. From there, the coolant is circulated throughout the various components of the engine, including the heater core, before returning to the radiator. To distribute the heat to the interior of your vehicle, a fan blows air over the heater core.
Like your car's radiator, the heater core can become clogged with rust or sludge. When this occurs, you'll need to have your vehicle's heating system repaired. If you have no heat or you smell the sweet aroma of engine coolant when your heater is on, chances are you have a small leak in the heater core. Geller's Automotive can get your car's heating system operating properly so you and your passengers will remain nice and warm during the winter months.
Click here to schedule service on your vehicle's air conditioning or heating system with Geller's Automotive, in Byram, NJ.